Contorion is an online store for industrial and trade supply, awarded for best Usability in 2015, by Computer Bild and Statista.
As the Lead UX/UI Designer at Project A Ventures, a German VC, I conducted user surveys, created prototypes, and designed the website, landing pages, and the Contorion logo.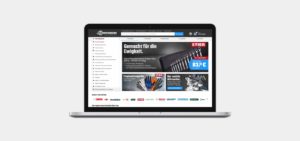 The smart shop for craftsmen
Contorion is an online store for industrial and trade supply. The extensive assortment covers a wide range of product categories. It serves professionals in commerce and industry with more than 300,000 products. The objective was to save time for the customers when ordering products for ongoing projects, as until then, ordering supplies was a catalog and B&M business only.
UX Results
Winning a usability award, best practice pattern validate with real users
UX Goals
Create intuitive simple and beautiful interface, Create smooth user experience in any device, Increase the usage delight, Make it brandable, Make it performant, Make it scalable
My Role & Tasks
UX / UI Designer at this Project with other Design colleagues. Wireframes, Prototypes, Handover to frontend developer, UI, UX, Logo Design
Methods & Tools
Scribbles, Wireframes, Paper Prototype, HTML Prototype, Sketch, Invision App, Jira, Confluence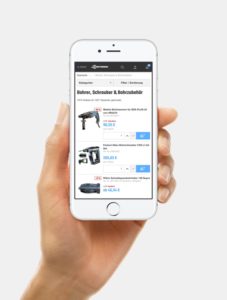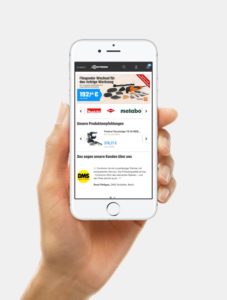 Focus on navigation via category or direct search entries
The navigation's main focus was to use clear categories to structure the extensive product range through card sorting by real users. As we found out through interviews with experts, many products are searched directly via a GTIN, EAN, and article number to go straight to the desired and searched SKU (No browsing and inspiration but focused buying).

Development of the iteration
The development of the design iteration is animated here from the wireframe to the first designs to the final design.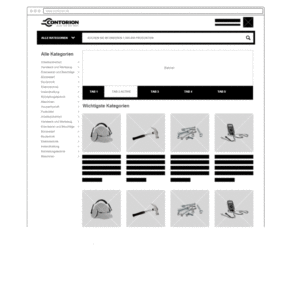 Logo design and color scheme
Together with my team, we created different logo variants and a high-contrast color scheme for Contorion. The logo was deliberately chosen in the typography Bold, the stylized wrench that reshapes the C as part of the brand to emphasize the theme.

Project approach insights
This eCommerce project was built from scratch. Here are some insights on wireframes, prototypes, and intriguing documents to this project.